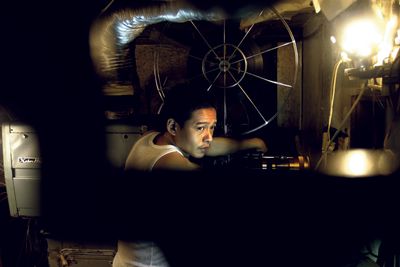 Goodbye Dragon Inn
Bu san
Director(s): Ming-liang Tsai
TW
82 min.
2003
| | |
| --- | --- |
| Age rating | unlimited |
| Black and white / colour | color |
In the age of digitalization, the world-famous Taiwanese director Ming-liang Tsai films a tribute to the disappearing celluloid cinematography and cinemas, where the characteristic sound of a 35 mm projector emanates from the projection booth. We sit through the last screening in a dilapidated cinema run by a lonely ticket seller and a young projectionist. On the program is the legendary narrative historical eastern from the 60s - Dragon Inn.
Projection of Goodbye Dragon Inn at 4 ELEMENTS 25. Letný filmový festival (SVETLO)
| | | | | |
| --- | --- | --- | --- | --- |
| | | | Film was already screened | Film was already screened |