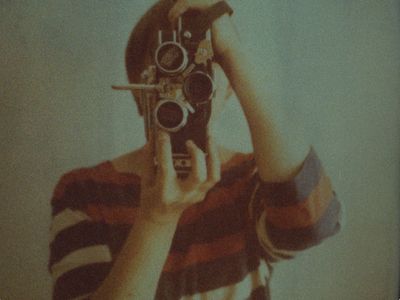 Closed Circuit, 2013
Closed Circuit, 2013
Director(s): Sasha Pirker
AT
3 min.
2013
| | |
| --- | --- |
| Age rating | 15+ |
| Black and white / colour | color |
Sasha Pirker´s conceptual experiment Closed Circuit, 2013 is a meeting of two analog formats – Polaroid and 16mm film – as well as of the predetermined units of time and the aesthetic aspects inherent in each material. In this work, the development time of Polaroid images correlates with the predetermined length of a 16mm film reel, which is three minutes – exactly the length of Pirker´s single-take film. The subject gradually peels itself into the picture, revealing a woman with a movie camera, or perhaps even the production process itself. The short, very concise film thus makes it possible...
Projection of Closed Circuit, 2013 at 4 ELEMENTS 25. Letný filmový festival (SVETLO)
| | | | | |
| --- | --- | --- | --- | --- |
| | | | Film was already screened | Film was already screened |